Welcome to Alkor Technologies - one of the largest manufacturers of sapphire optics. We offer custom sapphire windows and sapphire lenses at very competitive price. Please check our new sapphire windows catalog or send us your specifications, we will quote it for you within 24 hrs.
Our products:
sapphire plane microoptics (sapphire windows 1-3mm diameter);

large size optical sapphire windows up to 220mm (8"+) diameter;

square sapphire windows, sappphire light pipes;

sapphire windows with custom AR coating
See also: Material datasheet; Sapphire lenses;
Sapphire transmission;
Sapphire windows from stock;
Sapphire window: Pressure vs. thickness calculator: Click here!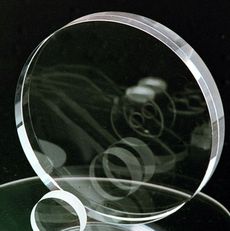 Sapphire is used for windows in 190-4000nm wavelength range. Sapphire windows exhibits the unique capability of having a broad transmission range and high optical transmission: from the vacuum ultraviolet to the IR spectrum. It is recognized as a highly important optical material because optical sapphire combines high transmission with outstanding mechanical-strength properties at high temperatures. Sapphire windows are widely used as protective windows. Sapphire windows are ideal for applications where high pressure, vacuum, or corrosive atmospheres are a consideration. Sapphire windows will exceed all other optical materials in harsh environments, providing a better barrier between elements.